#shapingtomorrowtalks
20 y

ears of D

elaware

.

20 talks between

 

generations of

customers and

the

#peopleofdelaware
Check back regularly for more.

The power of doing the right thing
We firmly believe in the power of doing the right thing for our clients and the wider community. Our commitment to taking a long-term view, combined with our global reach and capabilities, has enabled us to serve our clients' needs and drive growth for delaware over the last two decades.


Ian Greenhalgh, Founder and Managing Partner of delaware UK & Ireland and also Member of the Management Committee of delaware International, and Wynn Baum, Managing Partner and Founder of delaware in North America and also Vice Chairman of the Board for delaware, discuss their partnership with delaware and its founding principles.


"We need to be a global company grounded in our local cultures, but fundamentally the currency that we trade is expertise, knowledge, and capability." Ian Greenhalgh – delaware UK & Ireland


No goodbyes are forever at Delaware
Colleagues Vincent Guillaume and Sander van der Stap both left Delaware a few years ago to pursue other opportunities, but soon realised the grass wasn't greener on the other side. They missed the Delaware spirit, the challenging projects and the skillful approach. Luckily, no goodbye is forever at Delaware. As Vincent and Sander returned, they brought back their valuable experience, fresh perspective and passion for innovation.

"Leaving is difficult, but returning is even more difficult. However, great things never come from comfort zones". Sander van der Stap

<< unlock their full story by swiping left
There's something about the Delaware spirit
What were the main reasons behind your exit?
Vincent: "As an English-speaking member of the French SAP delivery team, I was traveling a lot and felt like I was missing out on family occasions regularly. I'm afraid I didn't express this struggle enough before I was completely worn out. Exploring new horizons enabled me to return with more assertiveness and new objectives."

Sander: "For me, it was quite the opposite: I was attracted by the opportunity to travel and work for a big software vendor as business development manager. After 12 years in the information management ecosystem, including 7 years at Delaware, I felt a bit stuck in one role, one technology. I was ready for a new challenge to drive my personal growth."

What made you 'miss' Delaware?
Vincent: "The tagline we commit, we deliver is being taken to heart. We don't promise things we can't do. Thanks to its pragmatic and skillful approach, delaware turns the most complex projects into something outstanding. Those challenging projects were what I was missing, in addtion to convivial and easy-going atmosphere, of course."

Sander: "I can relate to that. At Delaware, we're innovative entrepreneurs that think out of the box. We look over the barriers or constraints of one technology and reach out to colleagues. That synergy brings a lot of satisfaction, for our customers, but also for the#peopleofdelaware. I soon realised I missed this Delaware spirit."
Did you have specific expectations making these shifts?
Vincent: "While I worked elsewhere, delaware continued to grow into a large organisation but managed to sustain its friendly, creative and stimulating environment. Therefore, I was tremendously looking forward to working again for a company that combines best of both worlds."

Sander: "Leaving is difficult, but returning is even more difficult. However, great things never come from comfort zones. I was wondering how colleagues would perceive my return. At the same time, I also felt confident and ambitious, coming back with new knowledge and a refreshed and wider perspective."

What Delaware project are you most proud of?
Vincent: "All of them, I guess. Nothing is ever easy and everything is a challenge. However, once I did get into a very heated discussion with a customer on an implementation project in the Chinese aerospace industry. The customer was over-demanding and I stood firm on the impossibility of their demands. Later on, I was thanked for it by my colleagues and by the customer itself. Delaware only commits to what we know we're able to deliver."

Sander: "It's somewhat cliché, but as a sales executive, I'm proud of every project or solution that was created in collaboration with other teams and eventually solved our customer's problem. Teamwork creates added value for our customers."
<< unlock their full story by swiping left
There's something about the Delaware spirit
What's the most unique asset of Delaware?
Vincent: "The combination of a competent and targeted approach with a creative and stimulating environment is definitely unique.

Sander: "Delaware cherishes entrepreneurship. The fact that there's room for trial and error enables the #peopleofdelaware to grow as a person and become better in what they do professionally."
What do you see when you think of Delaware in 2123?
Vincent: "I hope that in in 2123, AI will cut all boring tasks of our job. All jokes aside, I hope that Delaware will still leverage AI's full power to deliver game-changing solutions to customers."

Sander: "It's already hard to imagine what Delaware will look like in 10 years, let alone 100 years. In the long run, I hope delaware maintains its agility and strong focus on both customers and employees."
In fact, we do not longer (want to) say goodbye anymore. Delaware recently launched its #friendsofdelaware initiative, bringing together a community of former colleagues to maintain relationships, collaborate in knowledge sharing opportunities and spark innovation amongst each other.

Leaving a positive impact on the world to become 150 years
Our dream is to be a company that lasts for at least 150 years. We firmly believe that the only way to achieve this goal is by taking care of our employees and the world around us. With numerous ad hoc CSR initiatives since the very beginning, it's fair to say that caring is in our DNA. In 2014, Delaware officially launched its WeCare taskforce that actively monitors and supports social and environmental initiatives. Fast forward almost a decade, WeCare continues to thrive and positively impact the world we live in.

"Our responsibility goes beyond taking care of our own company."
Jan Delaere, Founding Partner & Chairman

<< discover how we contribute to a better world by swiping left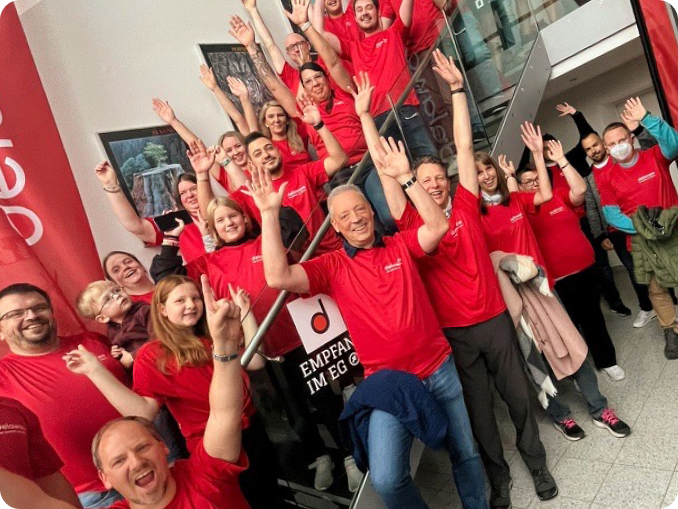 Our dream is to be a company that lasts for at least 150 years
Malaysia
In September 2022, a team of 30 colleagues from Delaware Malaysia volunteered at Zoo Negara, actively taking part in horticulture, plants landscaping and zookeeping, using different sustainable practices and technologies. They also engaged in habitat restoration, conservation research and collaborated with diverse communities and organisations. The goal was to provide a helping hand in developing a sustainable zoo that fosters environmental awareness and safeguards biodiversity for future generations.

Singapore
Delaware Singapore and Malaysia joined forces to make a meaningful and purposeful impact on the lives of those in need. Twenty-five #peopleofdelaware signed up for a noble cause that saves lives: blood donation. This simple yet profound act makes a significant difference for individuals facing medical emergencies or undergoing surgeries.

Hungary
In October 2022, 25 Hungarian #peopleofdelaware rolled up their sleeves to renovate a local playground, from painting fences over sowing seeds to surprising kids with new toys. To make this possible, Delaware Hungary cooperated with the Hungarian Charity Service of the Order of Malta in Kecskemét.
Germany
Delaware Germany organizes its annual We Care to Move Event in October. In 2022, 40 enthusiastic participants performed their favorite sports activity – bowling, playing table tennis or hiking – while raising money for charity. During last year's edition, all proceeds were donated to Tafel Deutschland e.V. Zweibrücken, a member of the Bundesverband der Tafeln (Federal Association of Food Banks). By combining fun sports activities with a noble purpose, we stimulated team spirit while providing valuable support to a worthy cause.

China
During the COVID-19 pandemic, some #peopleofdelaware were quarantined at home, while others were stuck in a hotel during customer work. Given the extreme shortages of products in China at that time, Delaware China managed to provide its quarantined employees with fundamental necessities. Moreover, a video campaign in which colleagues filmed snippets of their life in quarantine helped boost morale among colleagues. #peopleofdelaware care!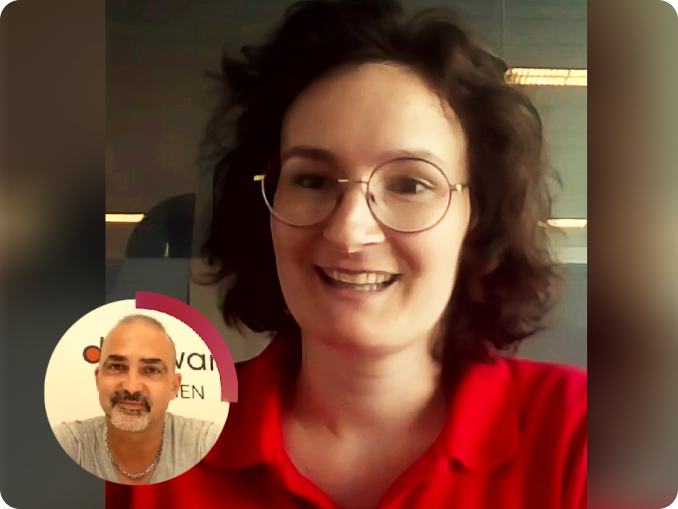 To reach 150 years, you must explore new horizons
As Delaware grows, the #peopleofdelaware grow along – even if that involves crossing borders. In 2012, Christophe Derdeyn, 2023 partner of Delaware Singapore, decided to discover new horizons in southeast Asia to help establish a new delaware entity in Singapore. Just over a decade later, Ayaka Ghoos, senior SAP EWM consultant, made the same decision to get out of her comfort zone. Did it change their lives? Most definitely! Together, they look back on their relocation adventure.

"Because of the shared values across various delaware entities, there will always be only one delaware." Ayaka Ghoos.

<< unlock their full story by swiping left
Different entities, one delaware
What's the secret behind your bold move?
Christophe: Some people may call it 'bold', but my wife and I considered this a unique opportunity to explore the world and different cultures.
Ayaka: I was looking for a way to get out of my comfort zone, experience new things and learn more about cultural differences.

Did you have specific expectations?
Christophe: I didn't have concrete expectations, but I knew I was going to be immersed in different cultures, as southeast Asia has many wide-ranging cultures. I was looking forward to being enriched by those new cultures.
Ayaka: One of the main drivers to start working for Delaware was its company culture. Moving abroad, I was hoping to experience the same values and working atmosphere.
How did you make it happen?
Christophe: One of the core values of Delaware is entrepreneurship. Back in the days, I worked together on various projects with Delaware as a supplier. Wim Van Eyken and Jan Vets, partners of Delaware Belux, encouraged me to help develop a practice in Singapore. Delaware truly puts its values into practice.

Ayaka: Christophe and I coincidentally bumped into each other in the Lummen office. A small talk about our shared passion for exploring new horizons got the ball rolling.

Christophe: I immediately saw the opportunity to expand our existing SAP practice with a new line of business. Speaking of a win-win situation: Ayaka's relocation fulfilled her dream and took our services to the next level.
What's key for you to grow as a person?
Ayaka: Taking on new challenges and opportunities enable me to really get to know myself. And for me, growth is in discovering myself while looking at the world with an open mindset.

Christophe: I feel like getting out of my comfort zone, always trying to push my boundaries and doing things that make me feel uncomfortable, make me who I am.

What's the strongest and most unique asset of delaware's culture?
Christophe: the #peopleofdelaware are incredibly entrepreneurial and supportive. In all honesty, we're not the most organized company, but relationships are very strong and people are extremely helpful and encouraging.

Ayaka: Delaware provides excellent support. Whether it's support on operational matters, growth opportunities or new challenges, there is always someone ready to help. When I look back at my relocation or the start of my new role as lead consultant, I felt very supported by delaware Belux, delaware Singapore and the whole warehousing team. This definitely helped me grow.
How do you think delaware's international footprint will grow over the next 20 years?
Christophe: So far, we've always been very prudent in our expansion plans, but quite bullish in the execution of those plans. So, I predict that in 20 years from now, we've planned to be active in 30 countries, when in reality we're already located in 50.

What do you see when you think of Delaware in 2123?
Ayaka: I see more entities worldwide with local leadership, local cultures and even more diversity. All entities are still working together where possible, learning from each other and growing together. Because of the shared values across various entities, there will always be only one Delaware."

<< unlock their full story by swiping left

The power of understanding your customers' needs
To reach 150 years, you have to understand your customers' business and industry.
Thomas Faisy, Information Systems Manager for CONDAT group, Thomas Zimmerer, responsible for IT at Karl Knauer and Han Cornelissen, responsible for IT at Heiploeg, discuss when and why they decided to get involved in a partnership with delaware, the challenges encountered prior to their collaboration, as well as reflect on their project and how it succeeded thanks to delaware.

"The main reason we chose delaware was the availability of the SAP FAST template in which a lot of knowledge from the food business was captured." Han Cornelissen – Heiploeg.

<< unlock their full story by swiping left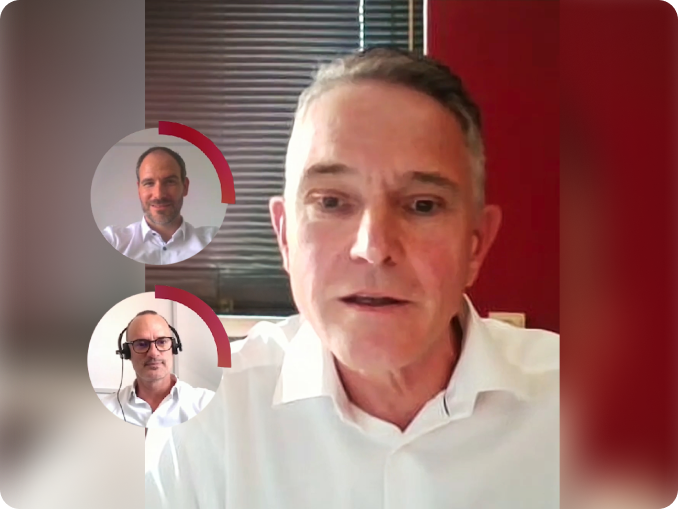 The power of understanding your customers' needs.
When/why did your organization decide to partner with delaware and what was the goal of the project?
Thomas F: We've been partners with delaware since 2009. We started with the DEL20 project, which deepened our understanding of their competencies and sparked our interest.

Thomas Z: Our 13-year partnership began in 2009 when we sought a sustainable ERP solution for the packaging industry, drawn by delaware's industry expertise and SAP-based template.

Han: We joined delaware in 2011. Their SAP FAST template was used to replace multiple disconnected legacy applications, improving logistics and finances in the food industry.
What were the biggest challenges in the project and how did you deal with them?
Thomas F: To address the growing scarcity and costliness of raw materials, we partnered with delaware to implement a system that identifies products on our production line, halting production when deviations from specifications occur to conserve raw materials and ensure optimal quality from the start.

Thomas Z: Karl Knauer's diverse production portfolio posed implementation challenges, but delaware's industry expertise guided us. Since 2012, we've improved our processes. Now, we're transitioning to S/4HANA with delaware to stay at the forefront of technology.

Han: As a private label company, Heiploeg faces dynamic challenges like diverse customer demands and market shifts. This project tested our adaptability, addressing issues like scope creep and management engagement.

<< unlock their full story by swiping left
The power of understanding your customers' needs.
Overall, do you look back on the project and collaboration with delaware with fulfillment?
Thomas F: The delaware team has exhibited remarkable adaptability in accommodating our customers' unique constraints throughout the project. This unwavering commitment to customer satisfaction is a hallmark of their service.

Thomas Z: The collaboration between Karl Knauer and delaware has been successful, despite typical project fluctuations. Effective communication has been crucial. Most notably, change management in IT and digital projects have been vital to ensure seamless user integration. Challenges emerged internally and with business stakeholders, but improving communication channels will be key for future endeavors.

Han: Reflecting on our project, we managed to adhere to our budget and nearly meet our timeline targets. The importance of change management and user training became evident. Investing in user training is essential for project success.

Thank you for this interview, Thomas F, Thomas Z and Han!

To reach 150 years, you aim to change the world

every once in a while
Delaware has consistently emphasized the importance of "doing things right" and "doing the right thing".
That's exactly how we manage to change the world every once in a while. In 2009, we played a major role in the development of Johnson & Johnson's Patient Outcome Measuring Tool, which significantly revolutionized healthcare data.
Despite initial concerns regarding data protection, this tool proved to be a game-changer and brought crucial advancements to the industry.
Similarly, today Delaware is partnering with Uze, a Belgian startup, to realise their ambitious vision in providing electric vehicle charging services in cities, as convenient as ordering a pizza.
Dr. Tomas Sorgeloose, Project Sponsor and Subject Matter Expert for value-based healthcare of the J&J project, and Kris Verdonck, CEO of Uze, share their experiences regarding these impactful developments.

To reach 150 years, you need to show resilience and perseverance
In our year-to-year journey from 2003 to 2023, the year 2008 proved to be remarkable, characterized by strong traits of determination, tenacity, and resilience.
In the early 2000s, the tourism industry faced an imperative need to swiftly adapt to digitalization. As a testament to their unwavering perseverance, Neckermann earned the prestigious distinction of being recognized as the best travel e-commerce site in 2008, as affirmed by Gert De Caluwe, the Executive Chairman of Neckermann.


Similarly, Mitsubishi Electric China embarked on its own transformative path towards digitization in order to meet the evolving expectations of its customers. Haoran Wang, the Planning Division Director of Mitsubishi Electric China, attests that resilience played a pivotal role in achieving their triumph
"We believe that human society can become more rational, tolerant and creative." – Haoran Wang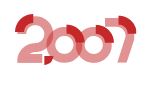 The power of long-term vision in times of crisis
Jan Delaere, founding partner of Delaware and Fabio Carneiro, partner & chairman of the board at Delaware Brazil, discuss the positive results of having a unique vision.

To reach 150 years, you go against all odds. Jan Delaere tells how Delaware Belgium went its own way during the financial crisis in 2007, turning the crisis into an opportunity. In 2022, Delaware Brazil went its own way in implementing SAP's cloud strategy, dramatically increasing its market share. Fabio reflects on how Delaware Brazil went its own way.

"It's important to realise that our projects have a big societal impact."
Fabio Carneiro

<< unlock the full story and swipe to the left!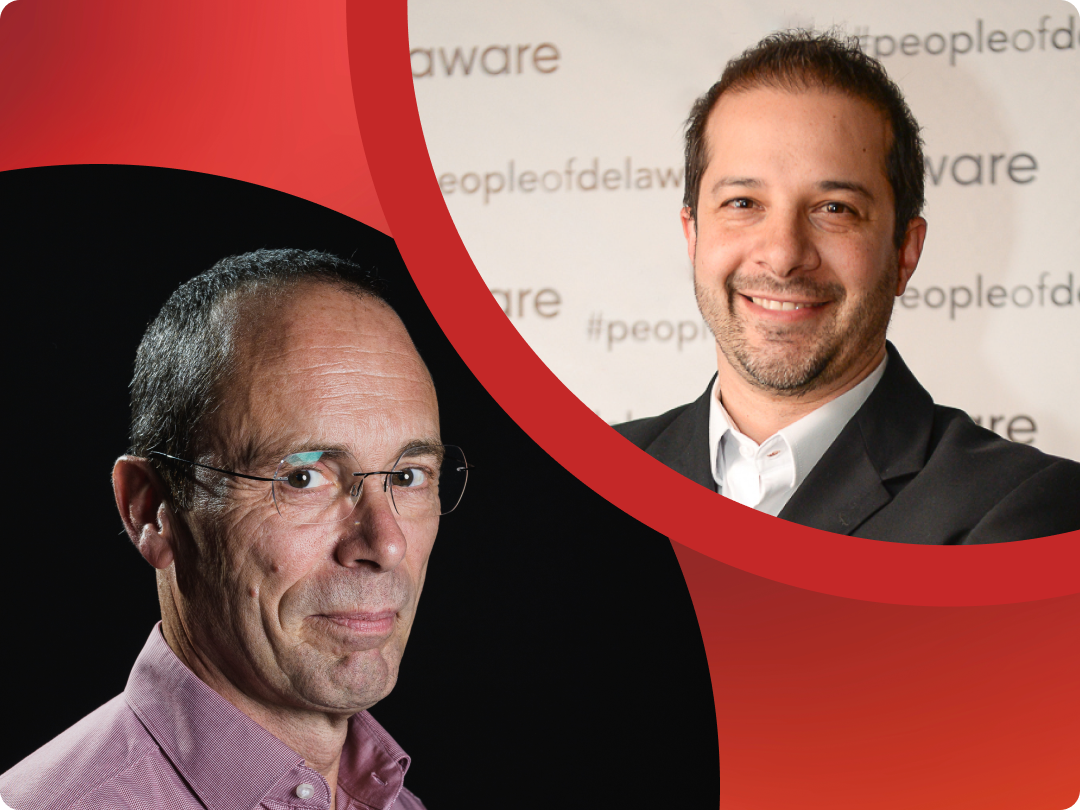 To reach a 150 years, you go your own way against all odds.
How do you approach growth, and how did you manage to navigate through the 2007 financial crisis?
Jan: "Our approach to growth includes having a long-term vision and commitment. When the 2007 financial crisis hit, we were affected just like our clients. While other companies were downsizing, delaware invested in talent, delaware saw it as an opportunity to strengthen the workforce and prepare for the resumption of the war for talent.

What made you create a company designed for never being sold?
Jan: "I was one of the 3 partners who launched delaware. The decision to never sell is based on the insight that we need all #peopleofdelaware to make this company a long-lasting success."

Fabio: "We took the same starting point as Jan 20 years ago; we have created a strong local team that has to become #peopleofdelaware. They will work closely with skilled people from other countries, and this combination is the key to our success in the future."

How do you create trust in times of crisis?
Jan: "With a combination of vision, actions and especially also a lot of communication. We don't hide our concerns and make people aware of the dangers, but at the same time we highlight our long-term focus and confirm our commitment to our stakeholders. We empower everyone to stay sharp."
Does focus on the long term always pay off and where do you see delaware in 2123?
Fabio: "In our case it really does, as it helps us to stay focused. When markets shift, we don't chase the quick wins but stay focused on what we believe to be our true assets."

Jan: "I want to add that delaware envisions a strong, worldwide and well-managed company, still building on the same values of today in 2123. And still being an independent partnership, because this gives us competitive advantages in a world where agility is key and where building on the world's best talents is crucial."

What's the project you are proudest of?
Fabio: "We have carried out a fantastic agrobusiness project, where we generated value and reduced social inequalities. Our projects often have a big societal or environmental impact."

Jan: "Absolutely true. The project I'm most proud of, is delaware itself. I've always been fascinated about how to unleash the amazing potential of people and organizations."
Success
f
actors for
s
upplier
r
elationships
David Eslick, Director of Business Technology at Gulfstream Aerospace, has been working with Delaware since 2006. Listen to David talk about the value of long-term business partnerships with Tom Breure, Financial Director at Leerdam Crisal Glass, (LC Glass) who has been working with us since 2022.
"Never being sold creates a sense of long-term success." - David Eslick

Reflections on strategic challenges
Luc Van Aelbroeck, Managing Director of Delaware in 2005 and  Eric Hiernaux, Managing Director of Delaware International in 2023, discuss how strategic challenges have evolved over time and what the key strengths of Delaware are for the future.
"Saying yes is challenging, but we just did it, all together."
Luc Van Aelbroeck

The
secret behind the long-term career path
Jan De Bock joined Delaware in 2004 and his career path evolved from Junior to Partner and Managing Director of Delaware BeLux. Today he talks with Josh Westwell, a new Junior Analyst at Delaware, to discuss the secret behind the long-term career path of Delaware employees.
"The juniors of today are the leadership of tomorrow." Jan De Bock
The founding of a company, to 'never being sold'
Peter Oyserman, Founding Partner of Delaware and Ataa Erroussafi, general manager of Delaware Morocco had a captivating talk about our company's long-term vision, local culture, and delaware's 'never being sold' vision.
"The whole idea of seeding, feels more like doing the right thing than obtaining only business results." Peter Oyserman