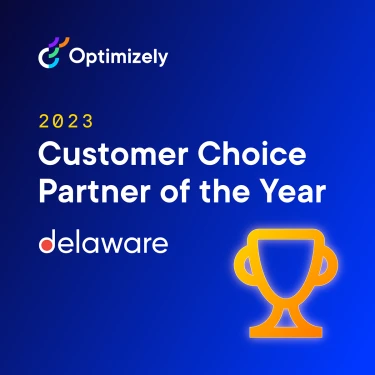 Delaware is awarded Optimizely's Customer Choice Partner of the Year
After a great year working with some truly rewarding partners, we're honoured to have been named Optimizely's Customer Choice Partner of the Year.
The annual Optimizely Partner Awards celebrates those who go above and beyond to accelerate customers' digital transformation journeys.
We were crowned Customer Choice Partner of the Year in recognition of providing an outstanding standard of software implementation and customer service for Optimizely users every step of the way.
Delaware is committed to supporting Optimizely customers throughout their digital transformation journey so they're primed for success long after the implementation.
Ready to work with a team of dedicated technology specialists?
With over 5000 employees in offices across the globe, Delaware is the right partner to develop, innovate and implement technology transformations and guide you towards an intelligent future.
Get in touch today.