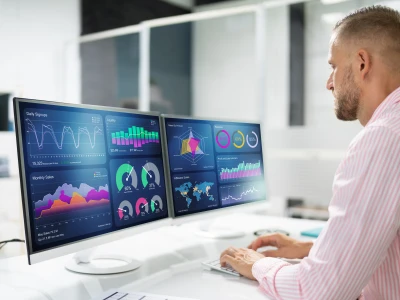 Stronger, faster, better business decisions
Data and analytics used to be the realm of a handful of specialised IT personnel. SAP Analytics Cloud (SAC) puts analytics capabilities into the hands of those that can make the most of them – in HR, sales and marketing, finance, supply chain and more.
SAC is a powerful, agile analytics platform that consolidates BI, planning and predictive capabilities, delivering insights to users company-wide and enabling enhanced decision-making and optimised management of company resources across all business processes.
Data diversity on a uniform platform: in SAC, not only data from SAP HANA or SAP BW can be imported or connected live from the SAP Cloud platform, but also Excel, other file formats and system connections (e.g. OData, SQL Server, or GDrive) can be used.
Data insights are now based on machine learning, data mining, statistics, and artificial intelligence, all which indicate what is driving the changes and trends in the data by focusing on the key influencers and important patterns.
The outcome? Data insights are channelled to the people who need them most, when they need them, driving even better business decisions.